To dye or not to dye, that is the question!
Below is my comment on the article of "
The Gray Wars
", TIME dated on September 10, 2007.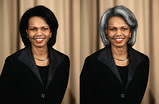 Looking at the two pictures of Condi and Nancy Perosi in your article, I was astonished at the clear differences of image between their faces with dyed hair and the ones with gray. Apparently, dyed hair could make women more beautiful,energetic, powerful and younger than they actually are. On the contrary, gray or white hair only gives them the image of aging and weakness.
As long as the women's desire for beauty and youth exists, to dye or not to dye is not the question of fashion and cosmetics, but of their life and death for real. In this sense, Japanese women are not the exception.