Sunken Treasure
Below is my comment on the article of "Sunken Treasure", TIME dated on September 3, 2007.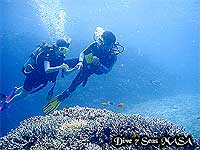 Almost every day and night, I see at least several horrifying news about endangering earth environments caused by global warming in newspapers, magazines and other news media these days. Your article on coral reefs is one of them.
But this time you gave me a glimpse of hope by showing the fact that tens of hundreds of volunteers as scuba divers have made a tremendous efforts to gather vital information on dying coral reefs for about ten years to rescue them with a sense of mission and love. As long as there are volunteers like them to seek for truth, I believe our earth and human beings would not perish in vain.